Meeting conference "Food Security and Agriculture Innovation"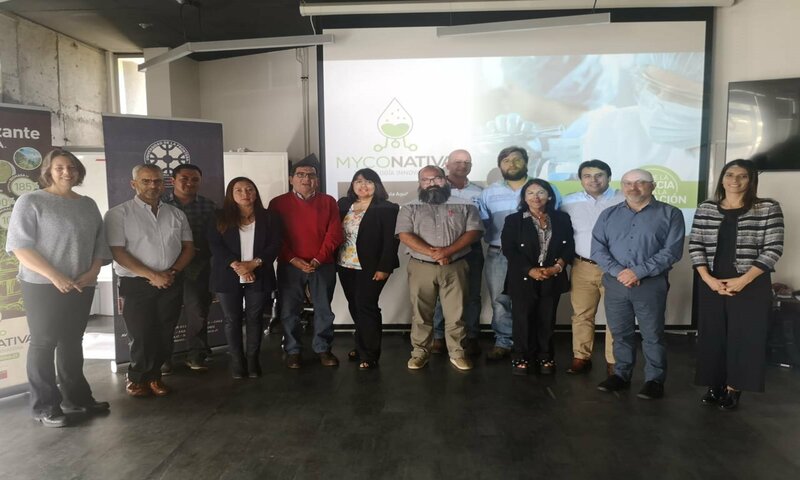 On Wednesday January 15th, a meeting conference entitled "Food Security and Agriculture Innovation" was held in the idea room of La Universidad de La Frontera and organized by Dr. Paula Aguilera Researcher of the scientific and technological nucleus in bioresources (BIOREN). Under the framework of the Fondecyt 11170641 project and MEC projects, the speakers Dr. Abad Chabbi and Dr. Cornelia Rumpel, researchers from the NEXER network presented the importance of developing sustainable strategies in the conservation of soils by companies with agricultural base. Also in this opportunity, Dr. Miroslav Vosatka from INRAE, presented the role and potential of mycorrhizal fungi in agricultural production in the face of recognized climate change.
Leading companies in agricultural development in areas of plant nutrition, seeds and control of harmful animal organisms such as "DE SANGOSSE" and Other companies that work with cultivation of plant tissues and potential development of berries and potatoes such as "FRUTOS DEL BUDI" besides agricultural-based companies such as WATT'S and CONCHA Y TORO were at this conference.
At the food security and agriculture innovation meeting, the representatives of these companies presented their opinion on the importance of research in the development of their products, the need to generate new strategies that optimize industrial processes related to agricultural production and the need to strengthen the science-industry relationship.
"We are starting a work with the institute (BIOREN) to advance in the investigation of the center of balance and carbon footprint in milk production. We are working together to develop a methodology and see how we incorporate good practices. The work until now has been generally good, it has been good for us, it has been a good teamwork" the Watt's company representative mentioned.
"In vineyard, the model is a little different from what happens in grasslands as it was shown today in the meeting but, in general the issue of soil degradation is a permanent concern. We are developing a project focused on understanding microbiology of the soil to enhance the most beneficial organisms. According to what is described in research is the next step to follow, moving to the concept of the relevance of circular winemaking or circular agriculture, for the company Concha y Toro is important to know the contribution of research to maintain the sustainability of the vineyards in formation, considering the problem that is caused by climate change like less yield, more pronounced frost effects, more pronounced disease effects, etc. "Representative of Concha y Toro said in the meeting conference.
In order to strengthen the science research and business relationship, BIOREN encourages their researchers to get training on the industrial and business area to achieve joint work, that  guarantees the quality of products and the sustainability of the environment.
Written by
BQ. Francisca Gómez – BQ. María Javiera Guarda